About Us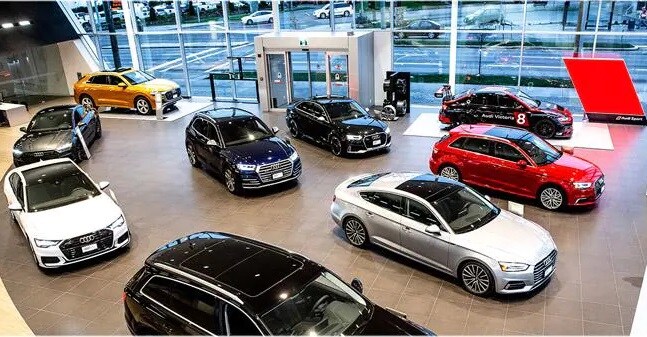 Advancement through technology. Every Audi is engineered to be light, efficient, and sporty. Our engineers' greatest achievement is realized by imparting every Audi with a soul. We'd like to introduce you to your soul macote.
Since becoming a member of the GAIN Group in January 2012, Audi Victoria has enjoyed phenomenal success, allowing it the prestige of being considered among Vancouver Island's most accomplished and prominent dealerships. Our success is built on the dedication, knowledge, and commitment of our associates. Their passion and excitement for this premium brand reflects the thinking behind Audi.
Experience Audi first hand. Audi Victoria offers an impressive selection of new and previously enjoyed Audi automobiles. Our associates will be pleased to assist you in selecting the Audi that best complements your lifestyle.
The continued enjoyment of your Audi is assured with the assistance of our factory-trained technicians. We are committed to providing all of our associates the opportunity to participate in ongoing Audi factory training. The knowledge and experience they gain ensures your Audi receives timely and effective service.
Contact Us
Hours
Monday

8:30 AM - 6:00 PM

Tuesday

8:30 AM - 6:00 PM

Wednesday

8:30 AM - 6:00 PM

Thursday

8:30 AM - 6:00 PM

Friday

8:30 AM - 6:00 PM

Saturday

9:00 AM - 5:30 PM

Sunday

Closed
See All Department Hours
Dealership Hours
Monday

8:30 AM - 6:00 PM

Tuesday

8:30 AM - 6:00 PM

Wednesday

8:30 AM - 6:00 PM

Thursday

8:30 AM - 6:00 PM

Friday

8:30 AM - 6:00 PM

Saturday

9:00 AM - 5:30 PM

Sunday

Closed
Parts Dept. Hours
Monday

8:00 AM - 5:00 PM

Tuesday

8:00 AM - 5:00 PM

Wednesday

8:00 AM - 5:00 PM

Thursday

8:00 AM - 5:00 PM

Friday

8:00 AM - 5:00 PM

Saturday

Closed

Sunday

Closed
Service Dept. Hours
Monday

8:00 AM - 5:30 PM

Tuesday

8:00 AM - 5:30 PM

Wednesday

8:00 AM - 5:30 PM

Thursday

8:00 AM - 5:30 PM

Friday

8:00 AM - 5:30 PM

Saturday

Closed

Sunday

Closed